This meeting welcomes chamber members, prospective members, and any of our neighbors interested in learning more about our business community and activities in the area!

The April meeting will be held both in person and virtually, at the same time. This registration page is for the in-person meeting; Registration will close at 5 pm on April 7th.

The in-person meeting has a limit of 50 attendees. If registration is full please register to attend virtually. When registering for the in-person meeting please select the option of meeting only or meeting with a breakfast burrito. Please bring your own tea, coffee, or water as beverages will not be provided.

Things to remember:
Please bring your name tag. You may also want to bring your phone or paper and pencil/pen. We will not be passing out agendas, sign up sheets or other materials so you may want to take a picture of upcoming activities listed on the bulletin board or take notes.


If you would like to attend virtually via zoom, please click HERE to be directed to the virtual meeting registration page.


Our topic for the month of April will be "State of the Chamber". Find out what was accomplished in the past year and learn about exciting things to come! During the meeting we will be voting on the new board of directors. We will also be holding our annual awards, presented by Citywide Banks. The past 12 months have been challenging and our members have risen to the top to support other members and the community. Join us as we honor our outstanding members!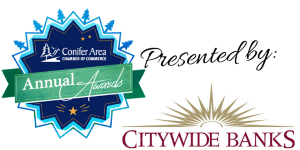 The following members have been nominated for the board term for 2021-2024:
Voting will take place at the membership meeting on April 9th. If you wish to place a vote, but are registering for the virtual meeting, you may pick up the ballot at the Chamber office Tuesday, Wednesday or Thursday from 10a-2p or by appointment.
Tyler Coomes, Conifer Gutter Service and Best Awning Company
Kristin Judy, Spectrum Electric, Ltd.
Vanessa Acree, Morse Evergreen Auto Body
Mike Thompson, Snowpack Taproom
Mindy Hanson - AlphaPixel Reach
Want to get your business noticed during the meeting?
Provide a Door Prize! Door Prizes are designed to give everyone the opportunity to promote a special event, sale, or just an additional commercial for your business. Bring in a small gift or donation with a 30 word or less commercial. Drop it off at the check in table and our ambassador team will read your commercial as we raffle off your item.
Date and Time
Friday Apr 9, 2021
7:30 AM - 9:00 AM MDT
Doors will open at 7:00 for networking. Pre-ordered breakfast burrito (if that option is chosen at time of registration) and coffee will be ready at 7:15. The meeting will begin at 7:30 AM.

We will be following safe COVID-19 precautions.
Location
Woodlands
8884 US Highway 285, Morrison, CO

This registration is for the in-person meeting. If you would like to attend virtually via zoom, please click HERE to be directed to the virtual meeting registration page.
Fees/Admission
Members:
$5 for meeting only
$15 for meeting with pre-ordered breakfast burrito

Non-Members/Guests:
$10 for meeting only
$20 for meeting with pre-ordered breakfast burrito

We hope to have coffee available for all.
Website
Contact Information
For additional questions or to sign up for membership contact the office 303-838-5711.
Send Email